Ciao A Tutti Tuscany Retreats
with Weatherly Stroh and Lizzie Larock
September 30-Oct 7, 2023 SOLD OUT
Two spots left: Oct 9-15, 2023 SOLD OUT
Lucca, Italy
Contact me to join the waitlist and get VIP notifications when we are announcing new retreat dates and locations.
It's time to download that Italian language app, watch Under the Tuscan Sun one more time, bust out those art supplies collecting dust in the corner, renew your passport and save your spot in the Ciao Tutti Creativity Retreat with Weatherly Stroh and Lizzie Larock.
(Our first retreat sold out in 3 days! We've added a second retreat. Details below. Don't delay, we only have a few spots left from: October 9-15, 2023)
Inspiring, relaxing and nourishing...
This is your invitation to a 7-night creativity retreat at Villa Berti, a 17th Century villa in the hills above Lucca, Tuscany from September 30 - October 7, 2023.
We have an extraordinary week planned in the Italian Countryside that you do not want to miss.
Are you drooling, yet, just thinking about spending this kind of relaxing, inspiring, nourishing week in Lucca, Italy with us?
If you've been craving a getaway with creative, funny, warm & welcoming people...
in Tuscany, then put down that biscotto and save your spot before they all book up (because this is an intimate retreat and our spots will fill up faster than a Ferrari).
Full disclosure, this is not a Ferrari, but it is the adorable Italian sports car of our villa hosts!
Painting, photography, positive psychology, PASTA and passaggietas in picturesque Lucca, Italy.
Ready to learn how to see, savor, and slow down to soak up the sweetest parts of life on an inspiring retreat in Italy?
Picture yourself Waking Up Here...
for a relaxing, fulfilling and fun week of plein-air and gouache painting workshops with artist Weatherly Stroh; creative photography, writing or mindfulness/positive psychology workshops with coach/photographer/writer, Lizzie Larock; yoga classes overlooking the Lucca hillside; pasta-making class with our Italian chef, Fabrizio Magnani, and delightful excursions and passeggiatas (leisurely strolls) around quaint Italian villages with our host, Benham Gooder.
Painting
In the painting & sketching workshops with Weatherly, you'll learn how to bring a landscape to life either in your sketchbook or on an easel (we supply both!).

You'll primarily work with gouache, the vibrant, versatile, quick-drying paint with stunning opacity that's perfect for plein-air and travel art.
If you've always wanted to paint or it's been a few decades since you've held a paintbrush, our Tuscan backdrop is the perfect place for you. You do not need any experience to enjoy this. Permission to play! You will learn the basics of color, charts, mixing and simple compositions while working with a creatively forgiving and fun medium.
If you're an advanced painter, you will have support from Weatherly to go beyond the basics and let your creative side run wild with Italian inspiration. She'll be there to teach you, encourage you and inspire you.
Photography & Writing
In Lizzie's photography and writing workshops, you'll learn how to be more curious, present, joyful and in awe much more often. You'll learn the art of iPhone photography and you'll have opportunities to play with DSLR photography, as well and you'll know how to actually work all the buttons on your iphone!
The best camera is the one you have with you making the art of photography one of the most accessible art forms.
The writing workshops will further your creative endeavors just giving you reflection time to see your life in a whole new way.
The art of slowing down and savoring...
You'll be fluent in the art of slowing down and savoring by the end of this retreat with plenty of downtime for la dolce far niente (translation: the sweetness of doing absolutely nothing!). While the relaxation of most vacations rubs off at the airport returning home, at this retreat, you'll learn the positive psychology and wellbeing tips to thrive long after you're back to the busyness of daily life.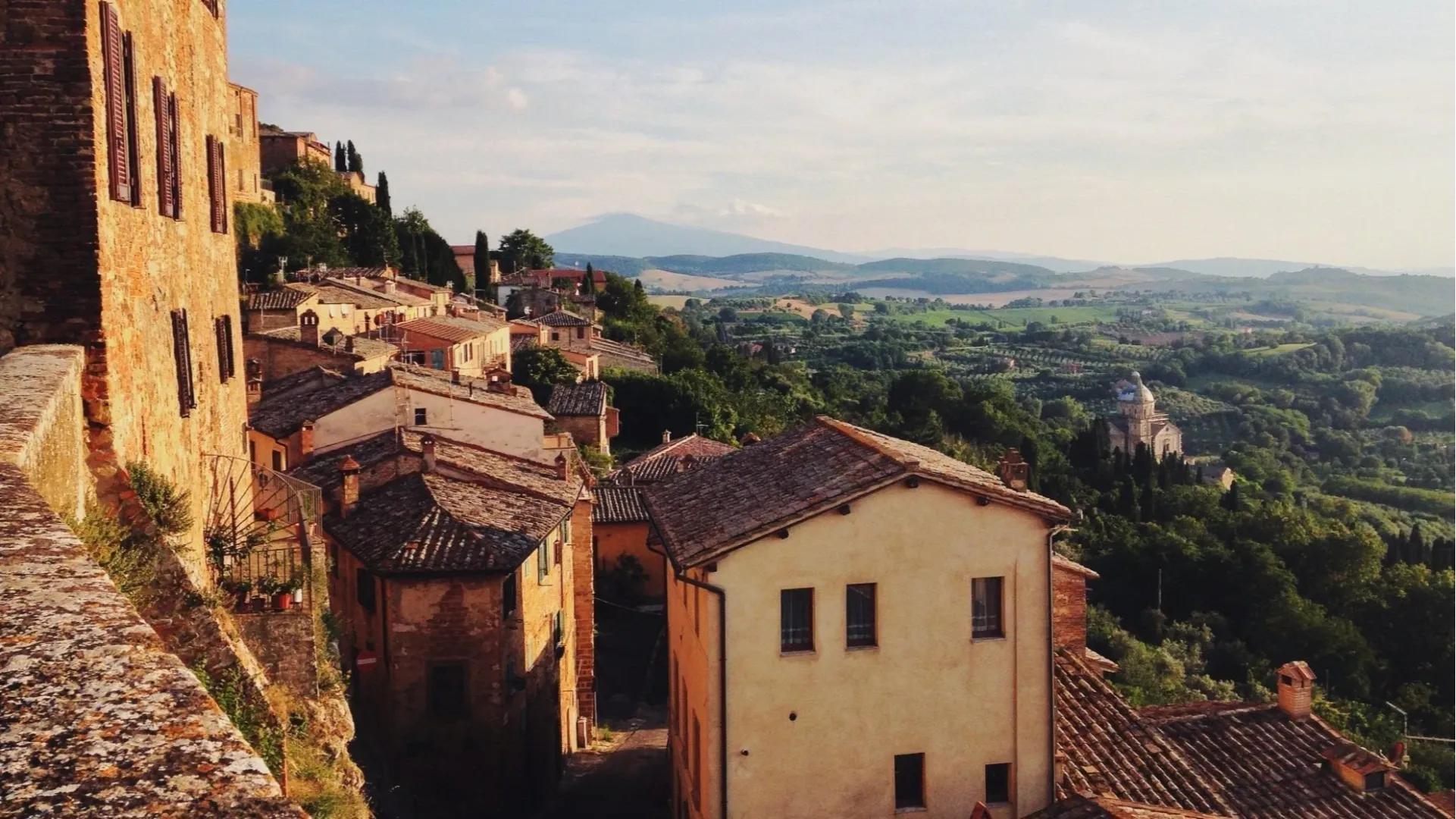 Excursions into Tuscany, yoga, cooking class, walks and more...
While it's tempting to never leave our gorgeous villa, we have two excursions into Tuscany planned, along with a flavorful cooking class at the Villa with our own private Italian chef, yoga classes, an Italian lesson or two and more!
The retreat itinerary
Saturday, September 30, 2023: Arrival & welcome dinner.
Days 2-3, morning yoga, casual breakfast, creativity workshops (mix and match choices of studio painting, plein-air painting and photography), al fresco lunch, afternoon open-studio time, enjoy plein-air painting, photowalks, journaling, hikes, reading poolside or in the library, or just enjoy la dolce de far niente (the sweetness of doing nothing), then we'll gather back, as a group, for evening apertivi & games at sunset and dinner in the cozy Tuscan kitchen with Chef Fabrizio.
Day 4: day trip to Pietrasanta. We'll visit this creative gem and enjoy a lovely lunch in this thriving artist community.

Day 5-7: morning yoga, more creativity workshops, similar plan to days 2-4, afternoon trip to stroll the town and local shops of Lucca with dinner out on the town at a local Lucca restaurant one evening.
Day 8: breakfast, goodbyes & departure
Please note that our intention is for this to be a flexible, nourishing, inspiring and creative retreat, not a rigid schedule. You'll have plenty of ways to truly relax and enjoy the Italian culture, savor incredible cuisine, learn from Weatherly and Lizzie and sink into the creative camaraderie of our group.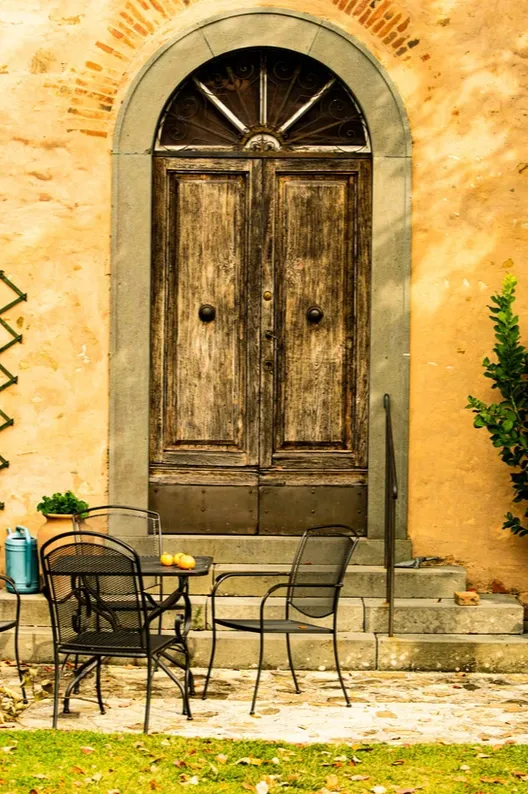 Every meal is taken care of...
What would a week in Tuscany be without the most delicious local flavors? Every meal is taken care of for you (including two meals out at local restaurants). This is truly a retreat where you can fully relax, enjoy and not have to plan a thing!
Breakfast, lunch and dinner are all included in the retreat along with nightly wines, aperitivi and snacks throughout the day.
Buen Appetito!
Breakfast is casual, lunch and dinner are decadently prepared by our private local Italian chef, Fabrizio Magnani.
There's even a homemade pasta making cooking class planned for one of our evenings with Chef Fabrizio and an outdoor forno brick oven pizza gathering planned (probably not the vacation to cut out carbs!).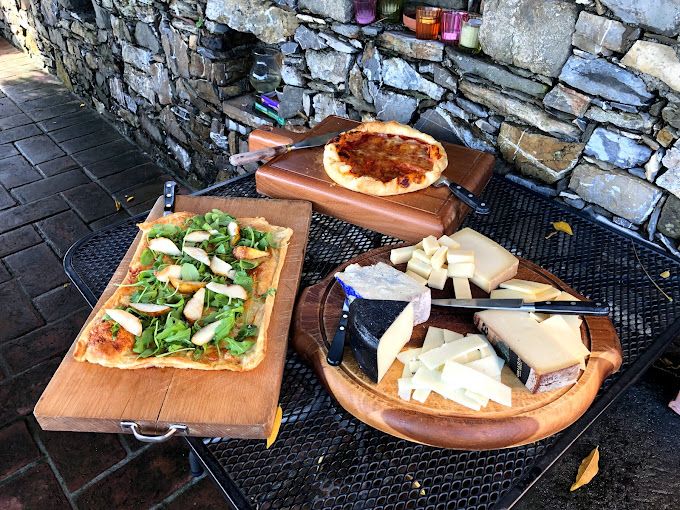 Dining will be al fresco overlooking the hills of Lucca, in the cozy Tuscan kitchen, or at the outdoor rustic pizza forno (outdoor oven) patio. We'll enjoy favorite recipes from generations of Frabrizio's Tuscan family, Lucca truffles, olive oil from the Villa Berti private stash, beautifully baked baguettes from the Berti brick oven, local charcuterie, fresh persimmons, lemons, truffles from the property or whatever other Villa Berti delectables are in season.
Camaraderie, creativity & cooking
in a gorgeous Tuscan villa with Weatherly and Lizzie for a week, seriously, what could be better?
About Lucca & our Tuscan Excursions
We've got two group excursions on the agenda to explore this stunning region.
Walking tour of Lucca: Enjoy a day exploring the beautiful Medieval walled city of Lucca. One of Tuscany's absolute gems. We'll wander the maze of shopping streets, discover the Roman amphitheater, enjoy a caffe or gelato at the piazzas and enjoy lunch at a local trattoria. After lunch, walk or cycle around the walls or climb the famous Guinigi Tower and enjoy Lucca from above. Bring your sketchbooks or camera and spend the day being creative. You will be driven home for drinks and dinner at Villa Berti.
A day at Pietrsanta: A Renaissance town near to the famous marble quarries of Carrara. Home to a thriving artistic community ever since Michealangelo stayed while selecting his marble for the David in Florence. We will visit a sculptor's studio and explore the beautiful center of the town and enjoy lunch in the main piazza.
About Weatherly Stroh
Weatherly has been a full-time artist for 12 years now, but has had a lifelong fascination with Italy.
Having spent two semesters of college in Florence and a semester of graduate school outside of Perugia, she makes a point of returning each year to paint en-plein-air.
Sadly her Italian is terrible, though she is fully adept at ordering her favorite gelato with lots of hand gestures and a smile.
Her favorite time of the day is the siesta, a practice she brought home with her from college and has perfected in her Florida art studio when time allows.
About Lizzie Larock
Lizzie is a writer, photographer and positive-psychology based coach.
She teaches creativity, writing and photography workshops through her signature Life Feast mashup of curiosity, awe, mindfulness, wonder & photography. She's taught everyone from 8 year olds to 78 year olds, CEOs, lawyers, accountants (and anyone else who doesn't think they are creative) how to find beauty in the tiniest details of everyday life.
Her creative retreats in Colorado have included everything from axe throwing to soundbath healing to making photo mantras out of alphabet soup.
Lizzie speaks French (not much help in Tuscany), but adores Italy, and considers herself a lifelong pizzatarian with an adoration of homemade pasta being a very close second in her well-fed heart!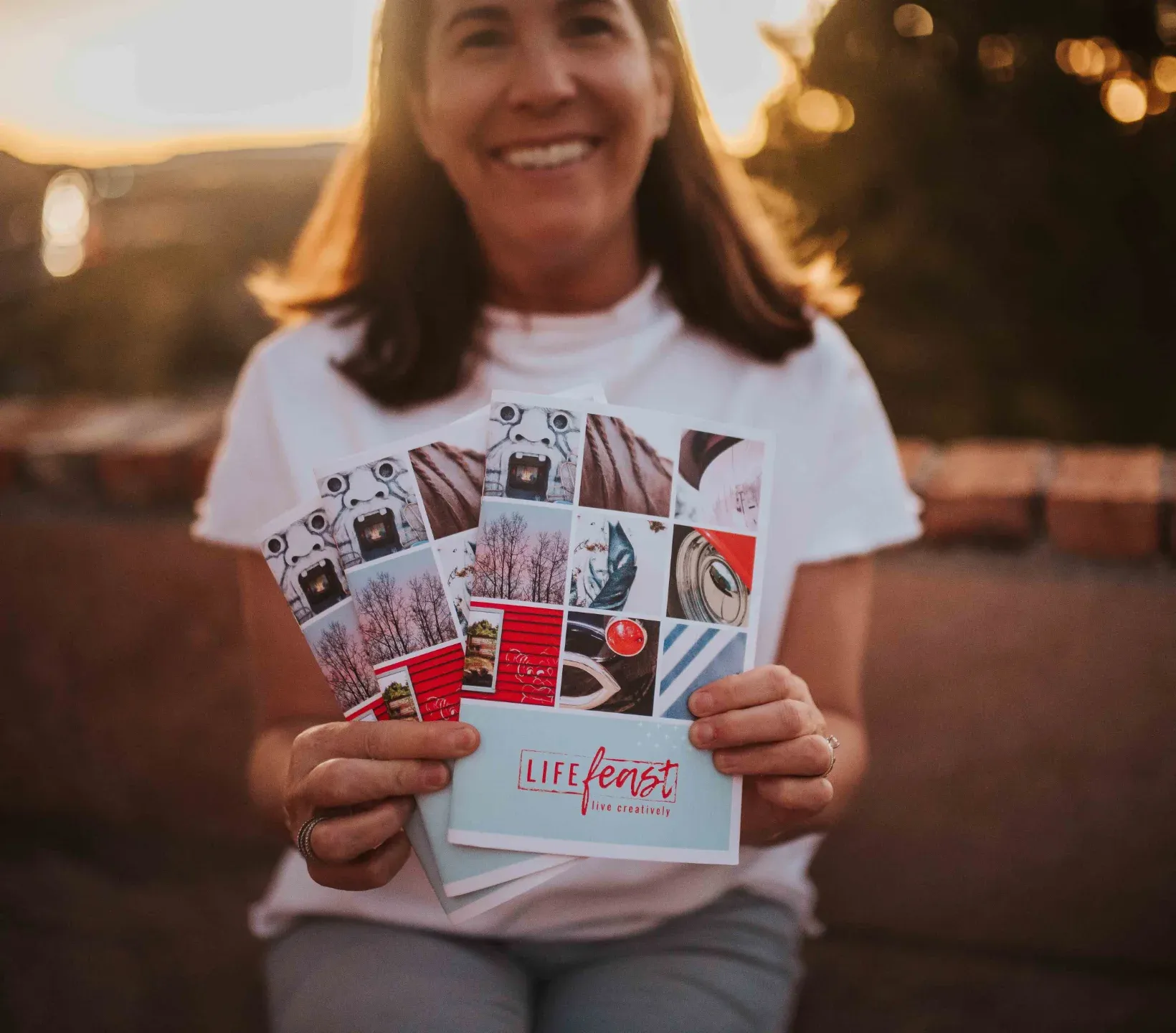 Weatherly and Lizzie have been close friends for over 38 years, since they were 11 years old (yes, they both have big birthdays coming up)! Weatherly has always been taller and Lizzie has always been louder, but they've shared a deep friendship along with a mutual love of art, creativity and a hilarious history of tweenage and teenage shenanigans. Don't ask about the Guns 'n Roses Toledo Speedway incident in 1991...
Fun fact: Lizzie visited Weatherly at her apartment in Florence while on her college semester abroad in France. While Lizzie was living with a chaotic French family with young kids and trying to avoid eating strange animal parts, Weatherly was supping on delicious fresh pasta at local restaurants, living in a fabulous apartment downtown, hanging out with The David and amassing a fabulous leather purse collection from the markets.

Lizzie was quite jealous of Weatherly's la dolce vita and this is why this retreat is in ITALY 29 years later!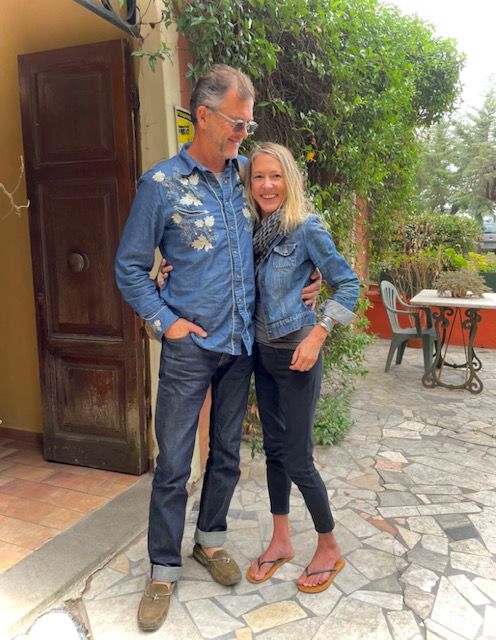 About our villa hosts, Ben & Nicole Gooder
Ben Gooder is an award-winning feature film scriptwriter and documentary film producer. Nicole is an artist, originally from America. They divide their time between Italy and the UK.
Ben realized his long held dream when he purchased Villa Berti from his family and began the restoration program.
Nicole and Ben are proud to have restored Villa Berti into this incredible artist retreat and they take great pleasure in sharing their love for this place with visitors from around the world.
About Villa Berti
Up winding lanes of olive groves and on the hillside of the lush green Lucchese valley, this 17th-century villa and farmhouse have been in Ben's family for 20 years.
He's restored the buildings with the utmost care, creating the perfect atmosphere for creativity, cuisine and connection at our retreat.
There's an inviting drawing room with antique furniture and a baby grand piano and a library lined with books and cozy arm chairs for curling up with a favorite tome.
The pergola is a perfect spot for afternoon relaxation, and the terrace is a favorite spot for coffee, breakfast and serenades from local songbirds.
We'll be staying in both the comfy and beautifully appointed guest bedrooms in both Villa Berti and the adjacent farmhouse, Casa Rosini.
Villa Berti's History
Villa Berti used to be the home of a local priest, so the property includes a lovely, quiet and contemplative chapel.
Thanks to its dominant position and views, Villa Berti was also once the headquarters for the American Army in World War II. You can see the church ruins of Castelaccio from the property, it is a war memorial to the Buffalo Soldiers.
If you ask nicely, Benham can give you the Gothic Line tour in his original Willy's Jeep one afternoon.
they make their own olive oil!
Villa Berti grows much of its own produce and also has its own line of finest extra virgin olive oil and limoncello from its olive and lemon groves. Don't be surprised to see wild boar, eagles, owls, pine martins while sipping your morning espresso, enjoying afternoon wine on the pergola or during a woodland walk in the surrounding chestnut forest.
It's the perfect spot for a retreat!
Now, as its iteration as an artist retreat, Villa Berti also has a working art studio (available to our participants 24/7) complete with easels, sinks and windows overlooking the hillside.
It also houses Ben's beautiful vinyl collection. So if your creative muse is Joey Ramone, you are going to love this feature. Of course, classical music or just the sounds of silence are also an option!
tutto è bene (all is good!) at this retreat!
Not only will you be immersed in all things creativity, cuisine, culture, camaraderie, and connection, there will also be time and space for dolce far niente (the sweetness of doing nothing).
This retreat is not about how artistic or creative you are (not at all), or how many activities you can squeeze into a week (probably a lot) or how delicious Fabrizio's cooking is (pretty sure it's amazing) ... this retreat is actually about seeing, savoring, and slowing down long enough to soak up the sweetest parts of life.
We'd love to have you join us! Space is limited, so save your spot, today.
Arrivederci!

Weatherly & Lizzie
What are the Payment & Cancellation Details?
How do I get to Villa Berti?
What if I'm not creative?
What's not included in the price?
Can you recap the retreat one more time?
What if I have additional questions?
You had me at Italy! How do I sign up?
Your non-refundable $1850 deposit reserves your spot at the retreat and can be made via credit card below.